Don't Miss an Issue
Opportunity to earn up to
1.0 CME/CE credits every month!
Learn More with The Clinical Advisor:
Information on common medical conditions typically seen in office-based primary care settings
The latest treatments, management techniques, and prevention methods for medical conditions you see most often
In-depth information on specific medical conditions
Career resources & employment listings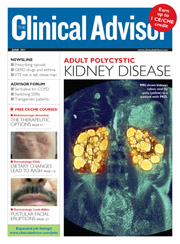 Subscribe Today and Elevate Your Skills with The Clinical Advisor
When you sign up for a paid subscription to the Clinical Advisor, you are making a solid investment in your career.
As your trusted source for information and case studies directly related to the conditions you are most likely to see every day, the Clinical Advisor is a valuable development tool.
Each monthly issue explores patient concerns and conditions from the perspective of Nurse Practitioners and Physician Assistants. Plus, every month you'll have the opportunity to earn up to 1.0 CME/CE credits.
Subscribe today and get your copy of The Clinical Advisor delivered directly to your home or office. Sign up is easy, and takes only a few moments.